Don't get too excited, it's just an excerpt of the new chapter from the book; Winds of Winter disclosed by one of the most followed authors of this generation.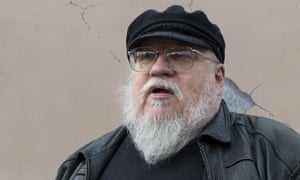 The chapter is told from the perspective of Princess Arianne Martell, the excerpt sees her travelling the countryside and reporting the news she gleans back to her father, Prince Doran Martell of Dorne, while attempting to control her wayward cousin Elia Sand. There's talk of bearding dragons in their den and of forthcoming battles, plus a rather lovely foray into a deep cave system.
Excerpt from the excerpt
Artwork by Magali Villeneuve
All along the south coast of Cape Wrath rose crumbling stone watchtowers, raised in ancient days to give warning of Dornish raiders stealing in across the sea. Villages had grown up about the towers. A few had flowered into towns.
The Peregrine made port at the Weeping Town, where the corpse of the Young Dragon had once lingered for three days on its journey home from Dorne. The banners flapping from the town's stout wooden walls still displayed King Tommen's stag-and-lion, suggesting that here at least the writ of the Iron Throne might still hold sway. "Guard your tongues," Arianne warned her company as they disembarked. "It would be best if King's Landing never knew we'd passed this way." Should Lord Connington's rebellion be put down, it would go ill for them if it was known that Dorne had sent her to treat with him and his pretender. That was another lesson that her father had taken pains to teach her; choose your side with care, and only if they have the chance to win.
In January he wrote, "Yes, there's a lot written. Hundreds of pages. Dozens of chapters,". "But there's also a lot still left to write. I am months away still … and that's if the writing goes well."
He was quick to "spike any bullshit rumours" that he was now finished with the novel. "Monkey is still on my back," he wrote, referencing an image of himself on the site with a monkey on his shoulder. "But he's growing, he is, and one day…"